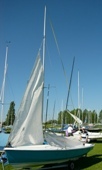 -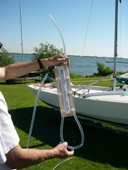 -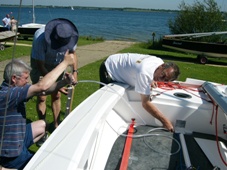 Serious pre-race tuning (
Douglas Butler
, 10024) and bouyancy testing for ...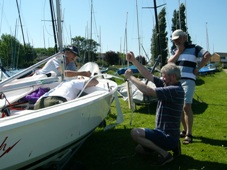 -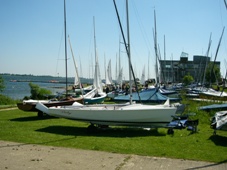 Gordon Oscroft
(10263), assisted by Ray Scragg ... and the queue to get on the water.
Richard Stephens
(9786) and
Tim Baribeau
(7967) also represented GWSC.
The photos show a sparkling summer day with temperatures around
28-30°
What is less clear is the WIND - fabulous, clean, steady breeze from the SE, but
Force 5-6, gusting 7 (31 knots)
!! Of the 45 entries to the first race, only 18 finished!
Watching the professional cope with this was a treat - they made rounding the jibe mark with spinnaker flying in a Force 6 look so easy! These were far too difficult conditions for ordinary sailors, and a few of us decided to leave the race to the experts and join the wind-surfers on their favourite reach - a rare chance to get the Wayfarer planing high!